Brown and dark skinned girls exist. There's actually quite a few of us.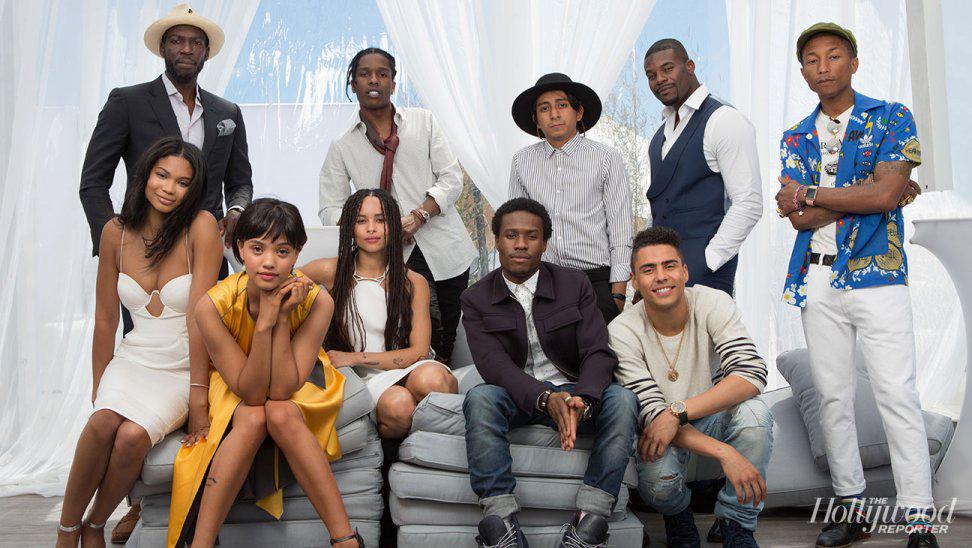 I'm actually really mad that I have to make this blog post, because I'm actually really excited to see this movie. But damn it if the trailer didn't have one GLARING flaw (there were actually many, but I'm only focusing on the most blatant this time around).
So there I was a few months back, scrolling Tumblr and wasting the day away, when I came across the teaser for a new movie. It was produced by Pharrell Williams (who I have my own Qualms with–but he produced the second season of my favorite YouTube series "ABG," so I was curious), and starred an entirely black cast. Dope, a movie set to release on June 16th, 2015, is the story of a trio of high schoolers who attend a drug dealer's party and accidentally leave with his inventory. The drug dealer finds out that his drugs are missing, and hijinks ensue. The story sounded funny enough, and the characters seemed charming enough. I've seen Kiersey Clemons and Zoe Kravitz in a number of projects, all of which I enjoyed. And I consider Chanel Iman to be one of the most beautiful models in the game right now. The problem I have with the movie is that all of the girls look alike, while all of the boys are allowed to have various skin tones, heights, and features. What I mean is, of the three women in the cast (all of them being black women), all of them are extremely light skinned and/or biracial.
The reason why it turned me off, is because this isn't exactly a new phenomenon. In fact, the unwritten "light skinned women only" rule has been in action for as long as black women have been entertainers. Dating all the way back to the Jazz Era (and even before then), it was difficult for black people to make it in the entertainment industry. Even when black men-sometimes regardless of their skin tone-could make an impact in the industry, black women almost always had to be light in order to be considered acceptable. Think of classic black female idols:  Josephine Baker, Dorothy Dandridge, Eartha Kitt, Lena Horne; all light skinned with relatively Eurocentric features, playing the love interests to black men with varying degrees in skin tone.
Dark skinned women (if included at all), on the other hand, are often portrayed as angry and loud, or the Mammies, or the comedic sidekicks to the light skinned girl's heroine.
Light skinned/mixed black girls are viewed as the most desirable, and the most worthy of attention. And usually, the colorism aspect of casting practices aren't even questioned until people bring attention to how discriminatory they may be. Of course, like everything else in the world, there are always exceptions where the main female characters are dark skinned. That's not to say that they don't exist, but it happens so rarely that when it does occur, it's a pretty big deal. But in the case of Dope, I suppose I was disappointed because it seemed like just the same old thing: dark skinned black boy is quirky; he's interested in light skinned black girl(s) who are deemed uber desirable and out of his league but somehow still intrigued by his quirkiness; he has a light skinned female friend who dresses like a boy, but may end up choosing femininity in the end to become another person's (if not the protagonist's) love interest. In a story focused on a collection of black people, no one thought to try and make the female characters more…diverse in terms of looks. With all the beautiful black girls in the world that exist, they only found it believable that girls lighter than paper bags could be seen as desirable.
It's stupid. And also unbelievable. And also boring. Because light skinned women as objects of dark skinned male affection (and also idolization) is such a played out thing, and the constant inclusion of that trope within the media is so damaging to the self confidence of dark skinned women.
Considering the fact that Pharrell "New Black" Williams is the producer doesn't make this any less surprising, but I'm sure that this casting choice would've been made regardless. 9 times out of 10, when a black woman is included in some sort of production, she's usually light skinned or mixed. Especially if the producers want the project to appeal to a "broader" (see: not only black) audience. I've also noticed that darker skinned black girls included in these projects perpetuate aggressive stereotypes for comedic effect (see: Mercedes Jones, Judy Cooper, etc.), or only last for a short amount of time before being removed.
It is what it is. I've grown used to it. But it's also why I choose to watch YouTube series made by black women. I feel like black women are more likely to include a wider range of other black women, because we feel the effects of these casting flaws so deeply.
Despite my disappointment with the casting decisions (as well as some of the tropes attached to the female characters involved), I don't think that should deter anyone from seeing Dope. The plot seems interesting, the dialogue is witty and pretty funny, and the actors all seem to have a strong sense of chemistry with one another. I really just hope that in the future, more producers and casting directors will consider the fact that it's actually realistic for brown skinned and dark skinned black girls to be compelling love interests and heroines, rather than a sidekick to the light skinned love interests and heroines.
And, honestly, I'm just tired of black coming-of-age stories revolving around men, in general. There are so many, and while I love the fact that this one has a relatively modern vibe to it, I'd love to see black girls play roles other than love interests and side characters. If the story consisted of various black girls AND guys, maybe I'd be more impressed.